In most towns and cities around the world, the levels of carbon monoxide in the air are below levels that are hazardous for human health, but in larger urban areas, like some capital cities or highly industrial zones, there is the potential to have harmful levels of carbon monoxide. MOPITT can detect smaller, isolated emitting areas like individual cities.
Detecting Moscow
Using the 2018 version V7 (TIR, day observations), an average of the CO total column over the MOPITT mission shows a stable local CO maximum over the Moscow cluster.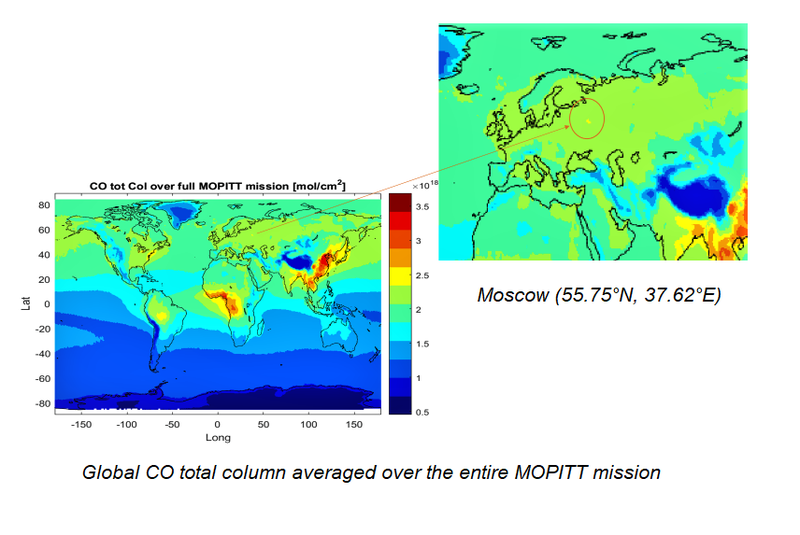 Looking at the CO pollution trend over Moscow for the period of our mission (see below, the total CO column trend as well as the trend of CO concentration at the 700 hPa level) we can observe a tendency similar to the global trend (CO Trends) observed by MOPITT as well as by other instruments.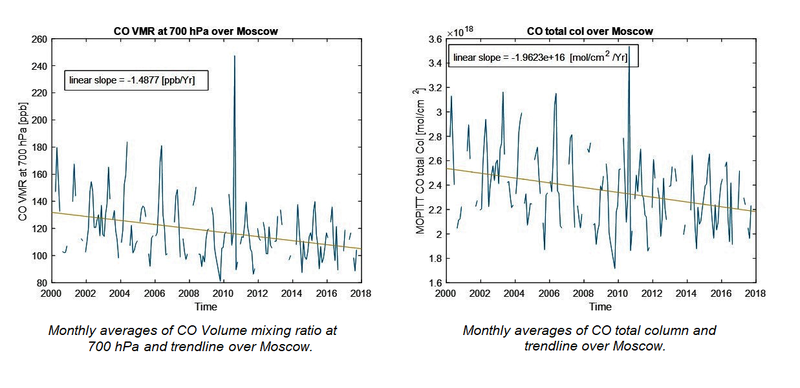 ---
References
Pommier, M., C. A. McLinden, and M. Deeter (2013), Relative changes in CO emissions over megacities based on observations from space, Geophysical Research Letters, 40(14), 37663771, doi:10.1002/grl.50704.
Dekker, I. N., S. Houweling, I. Aben, T. Röckmann, M. Krol, S. Martínez-Alonso, M. N. Deeter, and H. M. Worden (2017), Quantification of CO emissions from the city of madrid using MOPITT satellite retrievals and WRF simulations, Atmospheric Chemistry and Physics, 17(23), 1467514694, doi:10.5194/acp-17-14675-2017.